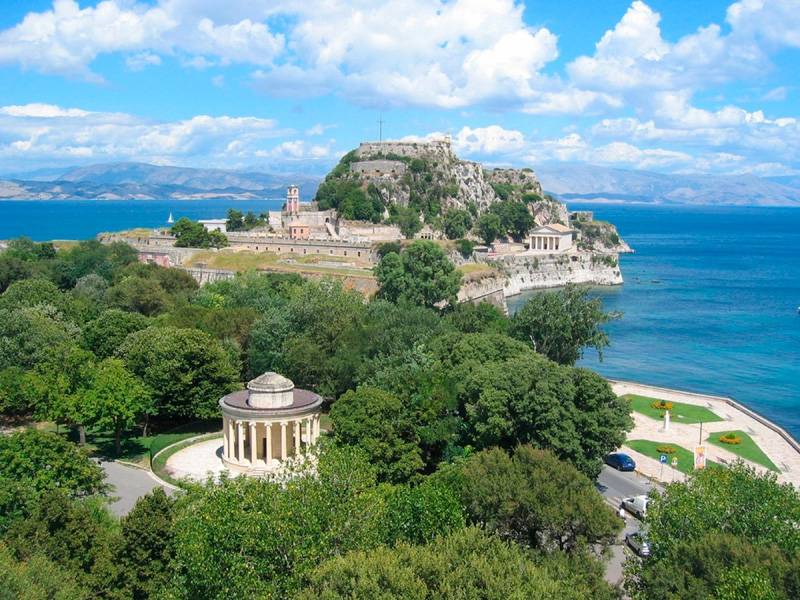 Corfu
Corfu (Kerkyra) is the most important and most northerly of the Ionian Islands and is situated only 1 nm off the coast of Albania and the Greek region of Epirus. It offers gentle green uplands in the south and rugged limestone hills in the north, rising to 906 m in the double peak of Pantokrator. Visit Sidari at the North of Corfu to swim in the Canal d'Armour; lovers swimming in the canal, it is said, will stay together for life.
The island's capital, Corfu (Kerkyra), is beautifully situated on a headland on the east coast, dominated by the Neo Frourio (New Fortress). The ancient city is farther south. Corfu is the seat of both a Greek Orthodox and a Roman Catholic archbishop. From the harbour you can either go east on the road running above the seafront (view), passing the old royal palace, or south-east along Odos Nikiforou, the town's busy main road.
An attractive excursion from Corfu town is to the villa of Akhillion, 16 km south. This villa in Italian Renaissance style, situated at an altitude of 145 m, has magnificent gardens and panoramic views.
Three kilometres further south is the charming fishing village of Benitses and its remains of a Roman villa.
Palaiokastritsa – on the East side of Corfu Island – is a lively and attractive tourist resort dominated by the Monastery of Panayia Theotokos on a high cliff. Near the village there are sea caves. From here it is a 1.5 hours climb (with guide; stout footwear required) to the ruined Angelokastro Castle (13th century) which has gorgeous panoramic views.
Gouvia is located 5 nm north of Corfu town and features a Venetian arsenal (1716). One can climb to the summit of Mount Pantokrator for a beautiful view of the surroundings and an abandoned monastery (1347). The village of Kondokali – adjacent to Gouvia – is nowadays more German or English than Greek.