LOCATION :CYCLADES
DURATION :7 DAYS / 7 NIGHTS | MILES :222
ROUTE :Athens – Kea – Syros – Mykonos – Paros – Serifos – Kythnos – Athens
Day 1: Departure from Athens ( Marina Alimou ) to Kea
Before we begin our sailing trip all the instructions will be given concerning the sailboat, the legal documents, and your safety during the sailing cruise. After this short briefing, your captain will explain to you your itinerary options based on weather conditions. You will decide where you would like to sail together with your captain.
Then we set sail for Kea island, a spectacular trip, because it leads us along the full coastline of Athens (15 miles) and along Cape Sounio with its temple of Poseidon. The water in Kea island is crystal-clear and the food is delicious: welcome at your Cyclades sailing trip!
Day 2: Kea Island to Siros
From Kea we set out toward Siros, to the harbor of Ermiopoulis town( town of Hermes), at the west side of the island. Walk the narrow back streets of Ermoupolis and discover the city's charm.
Visit Ano Syros and the Catholic Cathedral of Agios Georgios or hang out in Plateia in Plateia Miaouli, one of Greece's best public plazas. For sure Syros will be a place where you will get a casual Greek feeling you merit on your vacation
Day 3: Siros to Delos
Today you have only a short trek to finish, giving you the chance and if the weather permits – to stay at Delos in the early evening. Delos is an uninhabited island. The Delos archaeological sanctuary is listed by Unesco as one of mankind's most important cultural and historical sites. A stop for swimming in Rhenia and then lift our anchor and head for famous Mykonos.
Simple, blue and white, with every road having its own particular interesting character. The town is really calm at daytime, however when dusk sets, things are truly starting to liven.
Day 4: Mykonos to Paros
After magnificent Mykonos, we set sail for our next stop on the Paros island. Most normally it will be a fast trip if the wind is north. Paros has everything, but nothing too much. In our opinion the most lovely island of the Cyclades. Visit the alleys of charming Naoussa, take photos with your partner at the unique Venetian castle of the 15th century, and enjoy a meal by the sea before following the music to bar street within the old city.
Day 5: Paros -Serifos
The 5th day has already come. We continue our sailing trip in the Greek islands towords Serifos. We can just stay on the sailboat or you could make a climb to the 'chora', a wonderfully unspoiled whitewashed Cycladic town up on the hillside. The view from Serifos island is in a lovely bay on a lovely rocky island!
Day 6: Serifos to Kithnos
For our next island hop from Serifos to Kithnos we must leave early so as we have plenty of time to anchor in a bay near Merikia before entering its harbor. We can have a swim, lunch and after that it's just a 10 minutes sailing cruise till we reach at the harbor. Go around, hike or eat at a special restaurant of Merikia
Day 7: Free Sailing & Back to Athens
This day we have the last and longest sailing hop before being back in Athens. Enjoy the amenities of your sailboat as we pass the Apollon temple. At the evening we have our final dinner together, back in the commotion of the city, back to life ashore.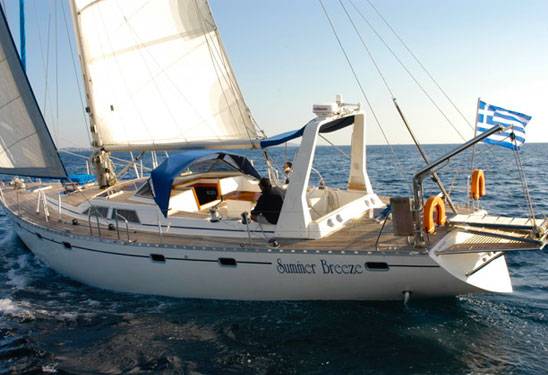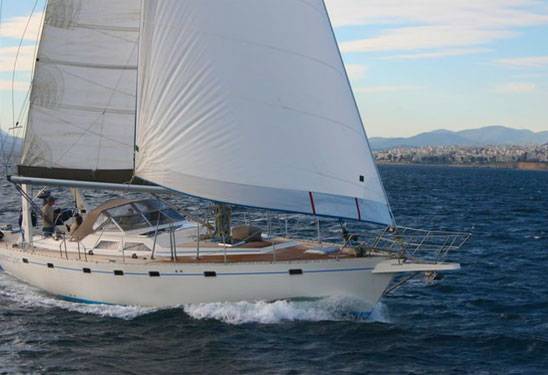 The route is always flexible depending on your wishes and the weather conditions.
It is a combination of some 

fabulous

islands, like Mykonos,Syros and Paros, with some intriguing, quiet places, where you will meet the "real" Cyclades