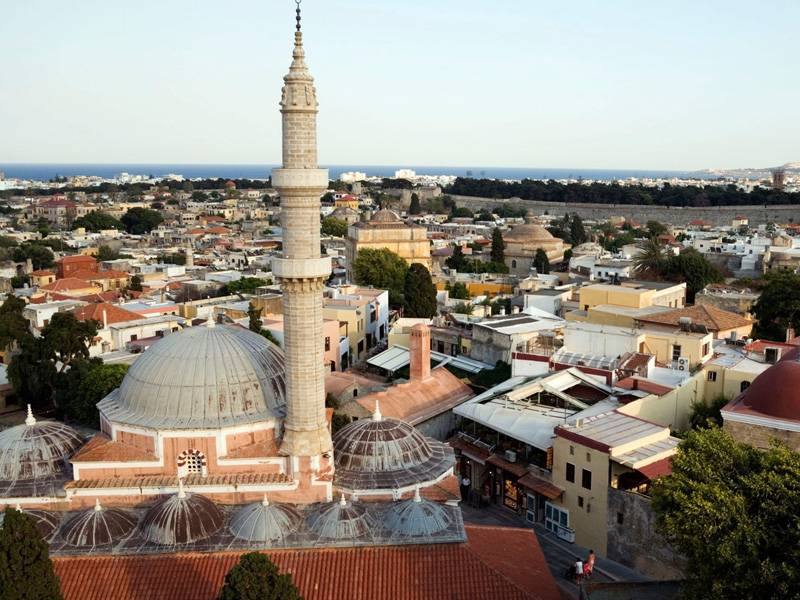 Rhodes
Rhodes, the largest of the Dodecanese and the fourth largest Greek island (after Crete, Evia and Lesbos), is a favourite port when visiting the south east of Greece and a very good starting point – much like Kos – for a sailing holiday in the Dodecanese. The island is roughly diamond-shaped and a mountainous range runs from north to south with the highest peak Mt. Ataviros (1205 m), situated in the middle of the west coast. Unlike many of the other islands in this region, Rhodes is fertile not only in the valleys but also on the higher slopes: pine, orange, olive, lemon, fig and pear trees thrive in these conditions. Also the villages are lush and colorful with hibiscus, jasmine and bougainvillea, which explains the many butterflies. And indeed, Rhodes is often called the butterfly island.
Rhodes was first inhabited in the Neolithic era. A major milestone in the island's history, which affected the fate of the other Dodecanese as well, was the founding in 700 BC of the Dorian Hexapolis, a union of its three cities with Knidos, Halikarnassos and Kos. Its economy and culture continued to flourish until the 3rd century BC, when it was the predominant power in the Aegean. When, a thousand years later in 1309, it fell into the hands of the Knights of St. John, it again became the centre of power, symbolized by its magnificent mediaeval town and the imposing castle and palace of the Grand Masters.
Rhodes Town
The capital, also called Rhodes, occupies the northernmost tip of the island. There are actually three cities on this site – modern, ancient and medieval. The modern town has a cosmopolitan character, many late 20th century buildings and hotels. The ancient town, which was founded in 408 BC according to plans by Hippodamos of Milesios (the first town planner), started from Monte Smith hill where the acropolis stood and extended as far as what is now the mediaeval city. All that is left of it today is the ruins of the temples of Zeus, Athena Poliados and Apollo, the Stadium, Gymnasium and the Theatre, which has been restored.